Hot air balloon
The fleet of Montgolfière et Châteaux features six recent balloons that are built to the highest quality standards, with volumes ranging from 3,400 to 6,000 m3 / 120,070 to 211,888 ft3. Each is designed to carry 2 to 8 passengers, making it possible to carry groups of up to 22 passengers when flying the largest three balloons.
The smallest one is reserved to passengers who select the "Prestige" service for a private flight; the other balloons carry 4 to 8 passengers.
Modern hot air balloon manufacturing is a combination of "tradition" and cutting-edge technology. Computers are used when designing the envelope, but the gores and other fastenings are crafted and stitched together by seamstresses. Since the beginnings of hot air balloon flight, the baskets have been made of willow and rattan, but stainless steel cables are now used to tether the balloon to the basket, where the propane tanks and burner are located. All our equipment is aeronautically approved, and our hot air balloons are meticulously checked by a qualified workshop every 100 flight hours or at least once a year.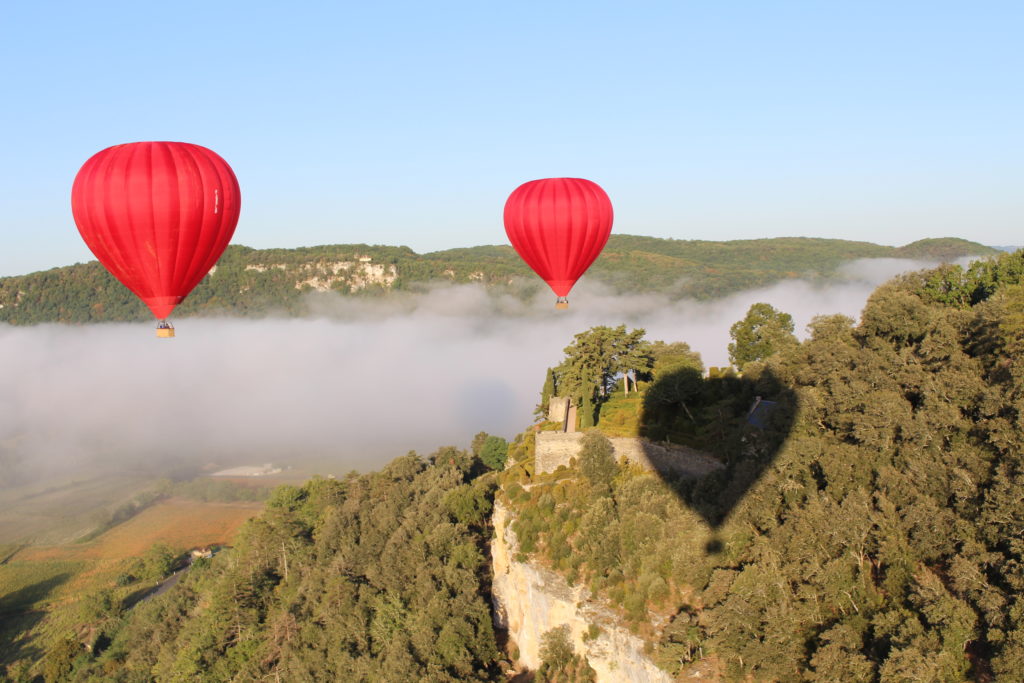 The vehicles
Our vehicles are Land Rover Defender 4X4s, and they serve a dual purpose: transporting passengers and towing the trailers that carry the hot air balloons. These 4X4s are best adapted to our activity, since they are powerful and capable of seeking out the balloons in the most inaccessible of places. Driving them requires a technical driver's license and a great deal of dexterity to avoid becoming entrenched in the fields. Still, they are a comfortable means of transportation. They are maintained with care to offer you a thrilling service with a little touch of the adventuring spirit.

The lift-off platforms
Our lift-off platforms are located at the four compass points of the valley and at its centre, ensuring a flight over the most remarkable sites regardless of the dominant wind orientation. After all, a hot air balloon is a suspended bubble of air that wanders with the wind. Only the wind can determine its trajectory, and that is why we knowingly select the most appropriate lift-off location at the last minute in order to best reveal the Dordogne Valley to you.

---
For more information about our hot air balloons and to reserve a hot air balloon ride over the Dordogne Valley and its castles:
> Consult our Flights and Fares
> Consult our Practical information
> Call us: +33 (0)6 71 14 34 96.
> Send us an Email